With all this wonderful weather, its got me thinking about summer. I have also been reflecting on my favourite holiday of all time, South Africa's Kruger Park was wonderful, so was Dominican Republic in wintertime a few years ago, we flew down to a small island where the sand was like talcum powder and the sea was an aqua crystal clear blue, such a contrast to our grey January days

But my all time favourite holiday was Florida and my grandchildren adored it. I absolutely loved Orlando and managed to visit most of the parks, they were magical, my favourite Disney park was Magic Kingdom, and then Orlando Universal Studios especially the ET and Jaws rides. Then we all spent a day at Discovery Cove and swam with the dolphins, that day was absolutely perfect from the moment we arrived, breakfast and lunch was all inclusive and swimming with these beautiful creatures was out of this world. Here is a photo (a Yahoo one) of the dolphins at Discovery Cove.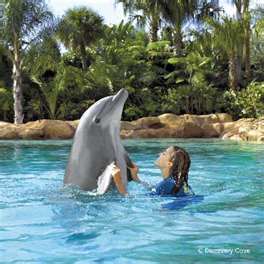 There was also a huge pool with a beach like surrounding where sting rays and tropical fish swam and we were able to enter the pool and snorkel whilst these giant sting rays gracefully swam past not at all bothered by their audience. I asked one of the guides about the danger of the sting rays as most people will recall Steve Irwin tragically died after a sting ray pierce his heart, but the guide said that all the sting rays had had their barbs trimmed, rather like having your nails cut so not painful to the fish.
I remember getting off the plane and a couple in front of me saying 'holidays are all about storing memories' and I never forgot that remark as its very true. All our lives are stored memories.
Anyone else got a favourite destination that they will never forget?
Ruby